JOB DESCRIPTION
This is a part time (20 hours a week) organizer position within the Southern Maine Worker Center (SMWC)'s Work With Dignity Committee. The Work With Dignity (WWD) Committee is SMWC's worker and workplace organizing wing. We aim to help workers identify, create, and implement economic justice campaigns and programs that represent their priorities.
TO APPLY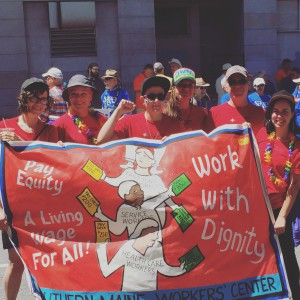 Send your resume and a cover letter to smwcemployment@gmail.com. Applications are due by November 4, 2016. Anticipated start date is on or near November 24, 2016.
SUMMARY OF RESPONSIBILITIES
This organizer's primary responsibility is to increase the engagement and leadership of SMWC members, with the goal of building worker-led campaigns and programs to further economic justice. This position will support the member-driven Work With Dignity Leadership Committee (WWD-LC) to carry out the committee's four program areas: WORK manual trainings, worker support, outreach, and any other grassroots worker justice campaigns. This includes networking with partner organizations and individual contacts, coordinating outreach and campaign activities, and building relationships with prospective members. The WWD-LC will work with the organizer to further identify work priorities and goals.
Membership Development
Develop and activate contacts for the WWD Committee

Support leadership development of SMWC members

Have one-on-one organizing conversations

Manage follow up to new contacts
Event & Volunteer Coordination
Publicize and coordinate WWD events

Coordinate outreach efforts towards WWD priorities

Coordinate events, trainings and presentations with other organizations

Coordinate volunteer staffing of Worker Support Hotline & WORK manual trainings
WWD Leadership Committee
Participate in the meetings and support the work of WWD Committees

Create agendas for meetings, with member input
WORK SCHEDULE & SUPERVISION
Fluctuating hours with a combination of self-directed and committee-directed scheduling.

Must be able to work some nights and weekends (for meetings and events) as well as weekdays. 

Position is supervised by the Executive Director, and works in coordination with the WWD Leadership Committee members.
QUALIFICATIONS REQUIRED
Experience with transformative grassroots organizing, including one-on-one organizing conversations, facilitation, leadership development, event coordination, campaign development; and a willingness to talk to strangers

Self-directed; able to work independently

Demonstrated writing skills

Aligned with the SMWC's political orientation, community agreements, and goals as outlined in the SMWC

Membership Agreements

Comfortable working collectively (including group decision-making, collaborative writing, and meeting/event co-facilitation)

Women, People of Color, LBGTQ people, poor and working class people encouraged to apply.

Start date on or near November 28th

This is a salaried position paying the equivalent of $15/hour.