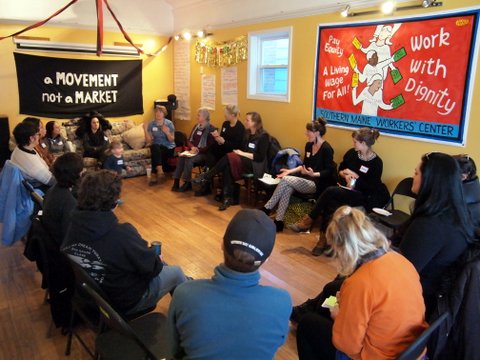 The Work With Dignity Committee
The Work With Dignity (WWD) Committee is the worker and workplace organizing wing of the Southern Maine Workers' Center. We aim to help workers identify, create, and implement economic justice campaigns that represent their priorities. We do this work with a focus on fostering solidarity between immigrant workers, low-wage workers, union workers, and others. Building our knowledge and skills, we work to ensure that our legal rights and our human rights are met in the workplace.
We currently have three projects:
Campaigns: Southern Maine Workers' Center members are advocating for a universal, enforceable, livable wage in Portland, Maine.
WORK Manual and WORKshops: We've developed a know-your-rights handbook and an accompanying training to help you and all Mainers to claim your right to a fair, respectful, and dignified workplace.
Worker Support Hotline: If your rights have been violated by your employer or if you want to organize to improve the conditions in your workplace, we can provide resources and support.