You may have noticed that we at the Southern Maine Workers' Center enjoys a metaphor almost as much as we enjoy a good pun. This year at our Annual Meeting we honored some of our incredible partner organizations with "Community Pollinator Awards" for their w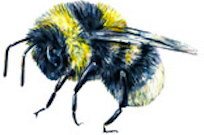 ork bringing people and communities together to create change. We also asked members to add a bee to our garden with a commitment to help our movement bloom.
Our members, including are many of you, are also donors to SMWC and many pay dues through automatic monthly contributions. Some of our non-member supporters do the same. Without a doubt, this the most important funding source for our organization. Monthly sustainers provide stable, long-term funding that allows us to stay focused on the issues most important to our members. We really couldn't do this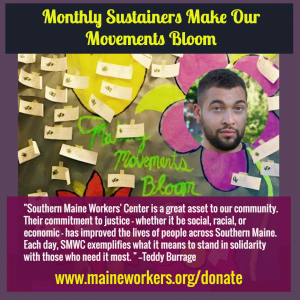 without them (without you!). So when we talk about blooming, it is really clear to us that sustainers are the reason for the beautiful bouquet that is SMWC—well, maybe that went too far.
For the next two weeks you will be hearing from our members, as well as supporters locally and with nationally, about why they love SMWC. We hope this will inspire you to become a sustainer as well.
We have a goal of raising a pledged total of $3,000 by June 29th. This funding will help us to maintain our presence on Washington Ave in Portland, show up hard for short term campaigns like the recent Save India Street efforts, and train our members to become organizers themselves–building truly grassroots leadership for human rights.
Please consider joining folks like Teddy by donating $5 or $10 a month to support SMWC's organizing for social, racial, and economic justice. If you are already a monthly sustainer, can you help us meet our goal by increasing your monthly donation?
Together, we can flourish. Thank you!