We're hiring a Health Care is a Human Right Community Organizer
The Southern Maine Workers' Center is looking for a part time organizer for our Health Car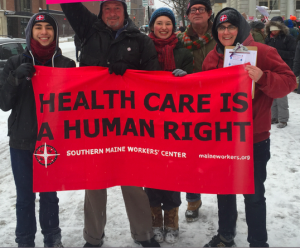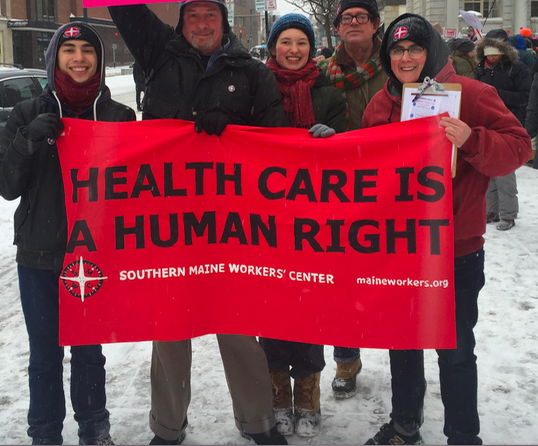 e is a Human Right campaign. At SMWC we believe that a health care system treated as a public good and based on the human rights principles is a fundamental step toward economic and racial justice in our communities. We're organizing a grassroots movement in Maine to change the health care discourse and policy. Our health care organizer will help us build a strong SMWC membership and a powerful coalition to make health care a human right in Maine.
To apply send a cover letter and resume to: smwcemployment@gmail.com. The deadline for applications is Friday, July 21, 2017.
JOB DESCRIPTION
This is a part time (30 hours a week) salaried position, with paid sick leave & vacation, and health insurance. This organizer will be primarily responsible for building the statewide presence of the Southern Maine Worker Center (SMWC) Health Care is a Human Right Campaign.
SUMMARY OF RESPONSIBILITIES
This organizer's primary responsibility is to increase the engagement and leadership of SMWC members, with support from the member-led SMWC Health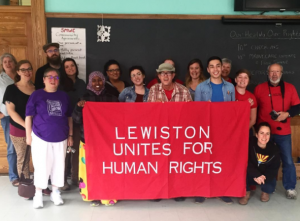 Care is a Human Right Leadership Committee (HCHR-LC). The goal of this position is to develop structures for member engagement that will last beyond the duration of the position. This includes networking with statewide partners and contacts, creating new HCHR organizing committees, coordinating outreach and campaign activities, and relationship building with prospective members (including follow up calls and home visits)–with a focus on new organizing outside of greater Portland. The HCHR-LC will work with the organizer to identify work priorities and goals.
Membership Development
Develop and re-activate as many contacts for the HCHR campaign as possible.
Develop and support Health Care is a Human Right Organizing Committees in areas of Southern Maine outside of Portland.
Coordinate presentations with other groups, events and organizations.
Support the HCHR Lewiston Organizing Committee in growing the committee and developing member-leaders.
Event Coordination & General Outreach
Coordinate outreach & campaign events and engage HCHR-LC in statewide outreach work.
Make follow up calls to new contacts and/or coordinate volunteer support for followup and turnout calls.
HCHR Coordinating Committee
Participate in the meetings & support the work of HCHR-LC Committee & all Organizing Committees as necessary.
WORK SCHEDULE, COMPENSATION & SUPERVISION
This is a salaried position paying the equivalent of $15/hour, with paid sick days and vacation time, and health insurance.
Flexible hours: This organizer must be able to work some nights and weekends as well as weekdays. There are no set hours.
Position is supervised by the Executive Director.
QUALIFICATIONS REQUIRED
Experience with transformative grassroots organizing, including one-on-one organizing, leadership development, event coordination, and willingness to talk to strangers
Self-directed: able to work independently.
Demonstrated writing skills.
Aligned with the SMWC's political orientation, community agreements, and goals, as outlined in the SMWC Membership Agreements
Comfortable working collectively (including group decision-making, collaborative writing, and meeting/event co-facilitation).
Must have own car or access to car to travel as necessary
Women, LGBTQ people, People of Color, and people who are poor or working class are encouraged to apply.