Good afternoon! My name is Osgood and I'm the Director of Portland Outright.
As an organization by and for low-income LGBTQ+ people, Portland Outright's work is inextricably linked to the work of organizing for the human right healthcare. Every time Outright youth leaders organize–for better access to healthy foods for incarcerated youth, for the right to live in safe housing, for trans-competent healthcare providers–this is the work of healthcare justice.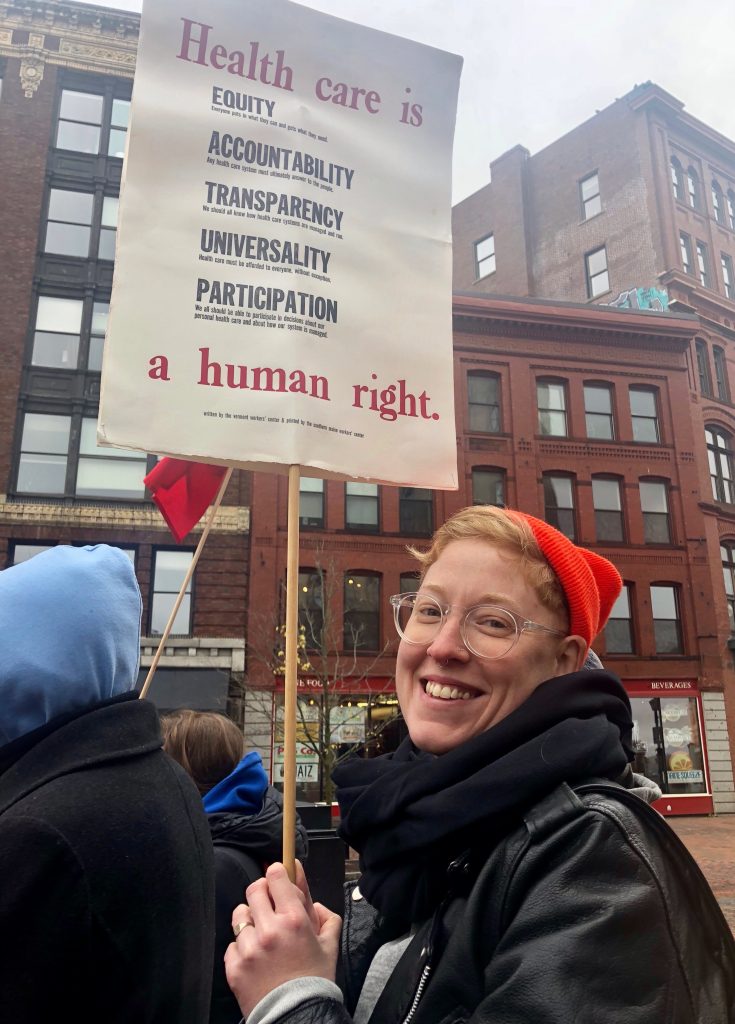 For LGBTQ+ young people, access to affordable, comprehensive, low-barrier healthcare is a lifeline. We see the work of advancing health equity for marginalized communities as integral to ending youth incarceration and youth homelessness. Lack of resources and barriers to good health perpetuate the criminalization of LGBTQ+/GNC youth. As an alternative to incarceration, LGBTQ+ youth need therapeutic, holistic, trauma-informed, community-based care and healing. Outright is an LGBTQ+ youth-led movement whose aim is to achieve this vision of health and equity for our communities.
Recently, the Trump administration announced plans to roll back the basic rights of Transgender people–hard won victories which protect trans people's right to self-determination, to healthcare and to safe housing, to be safe at school and at work. Since that time, communities around our country have suffered brutal attacks on their safety and lives–in community spaces and in public.
We also know that acts of state violence–including the state violence which drives cuts to MaineCare, including the changes proposed in the 1115 Waiver –disproportionately impacts people of color, queer and trans folks, and low-income people in our community. That this kind of systemic violence is a tactic used to keep us divided, to stop us from building the collective power needed to transform our communities.
When the state creates scarcity–in services, in resources, in care–there have always been community networks that open their doors and pick up the slack. We draw power from and model our programs after generations of trans people living in the margins who created deep abundance and rich networks of support from very little. It is in this tradition that we understand youth organizing and anti-oppression work as an act of love.
We must continue to organize and to take care of one another, because this is the key to our survival and creates the blueprint for the world we are building together. Our healthcare system should reflect the vision and values that are present in the work we do together everyday–interdependence, healing, justice. Now, more than ever, we must organize boldly and broadly towards the world we know is possible.