You're invited to…
The SOUTHERN MAINE WORKERS' CENTER's
2019 KARAOKE FUNDRAISER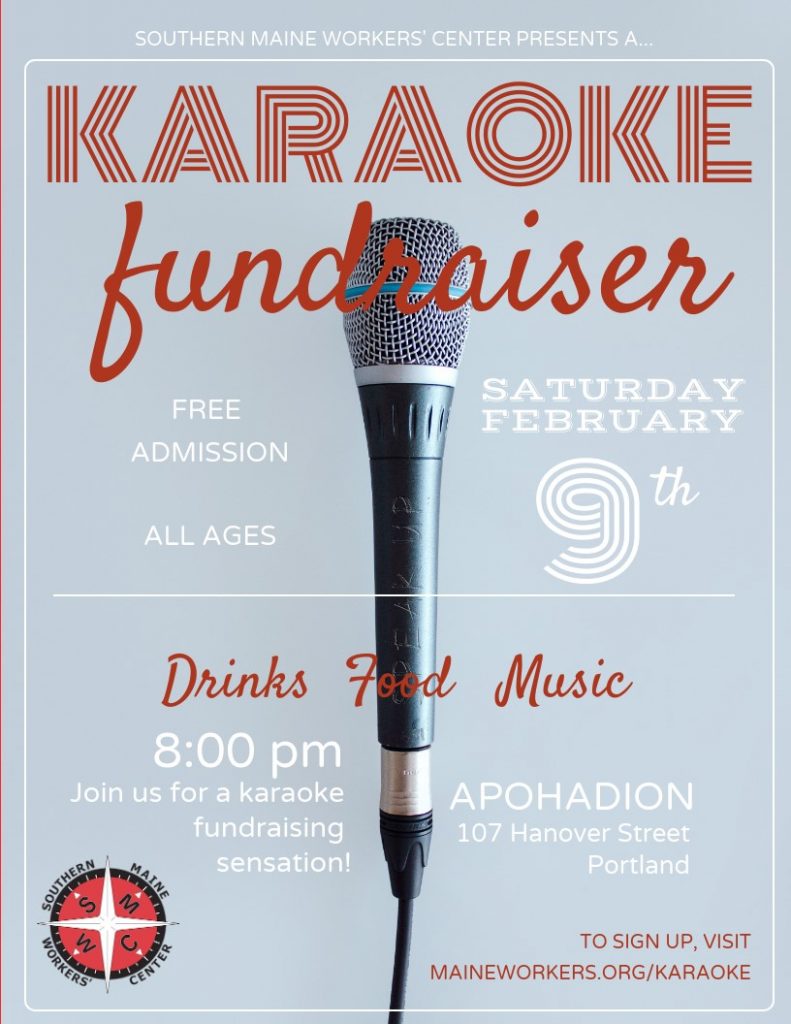 What is it?
The Southern Maine Workers' Center is hosting its biggest grassroots fundraising event of the year, and we need your help! On Saturday, February 9th at 8pm, SMWC members will be gathering at the Apohadion Theater in Portland to sing their hearts out and raise money to support the core programs of SMWC, from the Workers' Rights Legal Clinic to our organizing against Medicaid work requirements to our political education work in the community and more!
How does it work?
It's kind of like raising money to run in a road race…except your road race is a night of karaoke! Each person will commit to raising a certain amount of money. For the month ahead of the event, you'll use an online fundraising platform to make a personalized page to tell your community why you are raising money for SMWC. Using social media, personal emails, or in person asks, you'll be inviting people you know to donate to SMWC. To make it fun you can promise to sing an embarrassing song at karaoke or offering to let your highest donor choose your song. Members of SMWC fundraising committee will be available to support you to set up your page or think about how to meet your goal.
To celebrate our success, we will participate in a super fun, really sweet night of karaoke singing with the broader SMWC community on Saturday, February 9th, at the Apohadion Theater in Portland at 107 Hanover Street. There will be drinks, food, and lots of charming singing. We promise.
What's the fundraising goal?
We have set a goal of raising $10,000 with this event. This is our biggest fundraising goal EVER!  It's going to take a collective member effort to make sure we realize it!
What if karaoke is my worst nightmare?
You can still sign up to raise money and just attend the event. This is a consent-based model: no one has to do karaoke if they don't want to!
How can I sign up?
Just tell one of the Fundraising Committee members you want to do it, and we'll send you a link to the fundraising platform. You can talk to: Jo Bell, Sue Bragg, John Ochira, Jan Bindas-Tenney, Nicole Manganelli, or Drew Joy. We're so excited!! THANK YOU!
https://docs.google.com/forms/u/1/d/e/1FAIpQLScGFlfa0M3ne2sQbhCDPijrF2iD-FvI3IlsiEcpCpbY1eS7Eg/viewform