The Southern Maine Workers' Center is run primarily by a core group of dedicated volunteers from our membership. The job of SMWC staff is to coordinate our programs  and support the leadership of our members. We currently have two paid staff positions.
DrewChristopher Joy, Executive Director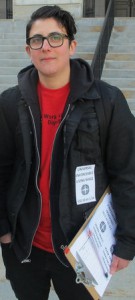 Drew is a white, mixed-class, queer and trans* carpenter and organizer. After many years of "living away," Drew moved back to their home state of Maine with a political commitment to multi-racial organizing in majority white, working-class communities, as part of a broad vision of movement building. In September 2012, Drew was introduced to the Southern Maine Workers' Center and realized that they had found their new political home. Drew was politically raised in a combination of anti-racist DIY punk culture and people of color led organizations continuing a tradition of transformative community organizing. The overarching theme is activism rooted in love for our communities and a commitment to do what's right with whatever you've got. In New Orleans Drew worked with residents organizing to regain access to their homes in public housing developments after Hurricane Katrina, primarily with the organization Survivors Village. Drew was formally trained as an organizer in San Francisco by the Catalyst Project and through a two year internship with POWER: People Organized to Win Employment Rights, which is now a part of Causa Justa::Just Cause. Contact Drew at drew@maineworkers.org.
Ronald Flannery, Health Care is a Human Right Statewide Organizer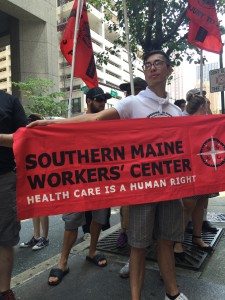 Ronald is a cisgender male of Vietnamese descent who grew up in a working-class white family in Lewiston Maine. He credits his political alignment and passion for transformative work to his experiences growing up as the son of parents who struggled to meet their basic needs. Ronald earned his BA in English Literature at the University of Maine at Farmington in 2012 and spent the next four years in Europe where he worked at the University of Angers in Western France before going on to study Global Political Economy at the University of Kassel in central Germany. Currently, he is completing his MA thesis on the American labor movement. Ronald hopes to use his knowledge to support poor and working class Mainers in realizing their democratic constituent power. Ronald has previously worked in Maine to pass same-sex marriage legislation and to halt discriminatory voter registration laws. Contact Ronald at ronald@maineworkers.org.
Erin Hennessey, Work With Dignity Community Organizer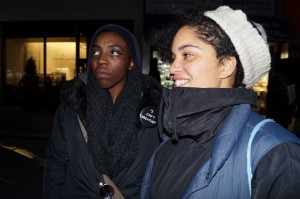 I have been living in Portland for the past 5 years. I was born and raised in Western Mass, and have lived in Vermont, New Jersey, and Upstate New York. I hold a B.A from Drew university in Pan- African Studies. My experience as an organizer includes includes working as the Field Director for FairVote Maine, winning campaign for Ranked Choice Voting. I first encountered the Workers' Center when I was organizing with a local Black Lives Matter group and always appreciated the way they showed active allyship at our rally's and demonstrations.
It's an honor to be able to use my 
background
 in field campaigns to further the fight for workers' rights in Portland. Building people power feels especially important, as our city faces rampant gentrification, segregation, xenophobia, racism under the guise of becoming more business friendly.
As a mixed race black person, and life long New England-er I feel personally accountable for fighting against the notion that "Racism doesnt happen here."