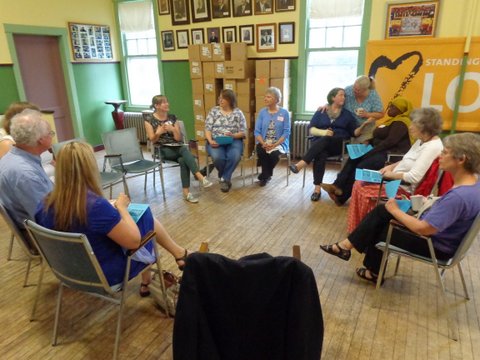 Will You Join Us?
We're developing grassroots leadership that is powerful enough to advocate for and win universal healthcare in Maine.
Contact our HCHR organizer Ronald to learn more about any of our statewide HCHR work: ronald@maineworkers.org
Join an Organizing Committee
The heavy lifting of the HCHR campaign is carried out by organizing committees comprised of volunteers who are willing to help lead this movement by mobilizing people in their local communities. We're working to develop organizing committees across the state.
We have an active Greater Portland Organizing Committee and are forming committees in Lewiston/Auburn and York County. If you live in these areas and are interested in helping to develop a new Organizing Committee in your area, contact our HCHR organizer, who will be thrilled to meet with you and get things going.
Invite us to do a presentation in your community
The HCHR committee is available to lead interactive presentations to groups  across the state who are interested in learning more about how to support the movement for truly universal, publicly-funded health care in Maine. This is a great way to engage a critical mass of folks within your network and to increase the reach and power of the campaign! We can develop customized presentations to suit different time constraints and group sizes. If your church, book club, community organization, worker co-op, etc. is interested in arranging a presentation, please contact us.
Host a Story Sharing Potluck
One of the innovative ways we bring new folks into the campaign is through hosting Potluck Story-Shares, where folks bread bread together and share conversation about our personal encounters with the for-profit health care system. You can watch the below video to learn more about this approach:

Our Stories, Our Strength: Healthcare is a Human Right potluck & story share from Ali Mann on Vimeo.
Amplify our story in the media
It's important for us to amplify the voices of ordinary Mainers who have experienced the consequences of our current for-profit system and believe we need a change. Regular letters to the editor, op-eds, and other media strategies are crucial for keeping HCHR a current issue in public discourse and inspiring new people to join the campaign. SMWC organizers are available to help folks interested in sharing their stories to craft LTEs.